DISCLAIMER !!




Victubia is a fan project and a work of fiction, and does not represent the thoughts, opinions or actions of the youtubers they are inspired by.



SPOILER WARNING!
This wiki is NOT free from spoilers, while we keep most of the spoilers under collapsible space, we still highly recommend you to read the victubia comic first before browsing through this wiki.
You have been warned :) !
This is the Victubia Official Wikia, a companion for the WebComic series made by Gabbi Nilsson.
ANNOUNCEMENT : 'The Vox' is now available for non-Patreon ! 'The Vox' is an origin story of Cry and LNC in Victubia it is updated every Thursday. Read it here . Also don't forget to support Gabbi on Patreon and receive various rewards (more detail on her Patreon page)
If you are a Patron, please do not post Patreon content without permission
As of February 13th 2016, Victubia has become a webcomic series along with Gabbi's Patreon reboot. Read the comic at the webcomic tumblr or the tapastic page.
New to Victubia? What is Victubia? What kind of Universe is this?
Click here for the summary of this Universe ;)
We hope you'll find the wiki useful! We know there's still a lot of things to add in order to improve this wiki
so don't be shy to comment on a page or send us messages for suggestion :) .
Victubia started as a wallpaper series by Gabrielle "Gabbi" Nilsson. Based on the idea of putting some of her favorite YouTubers in a victorian/steampunk inspired world, where "Victubia" is the capital.

Victubia is a fan project about some of our most beloved YouTubers. Victubia takes place in a Victorian/Steampunk/Fantasy Universe, more specifically in the capital of the kingdom Victubia. It originally started as a wallpaper series by Gabbi, and was a fan project for a motion-comic series on YouTube, and as of February 13th 2016, Victubia became a webcomic series.

The story follows the adventures of the YouTubers as they band together to overcome hardships and face a serious threat to Victubia.
Still have questions? don't be shy to ask Gabbi herself in the ask.fm or on her livestreams :D !
(Don't worry if you don't get immediate response she will answer your questions eventually :x )
Also make sure to read the Frequently Asked Question before you ask the question ;)
Did you know that you can have your own Victubia T-Shirt? check here :D!
This wiki contains information from the official tumblr and other official sources (Gabbi herself :x), we simply compile the information and arrange it for easier reading format and searches :)
At the moment, there are 106 pages since it's official activation on the 2nd of June, 2014.
Last Home Page Update: 30 March 2017
If you see this, your JavaScript might be disabled or DiscordIntegrator plugin isn't working. If the latter, please contact a wiki administrator.

Which Element Fits You?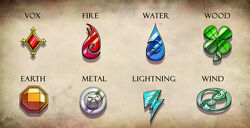 | | | |
| --- | --- | --- |
| " | Ever wondered what magic fits you? Or do you plan to make your Original Character but not sure which magic would fit your character? Try out this Quiz, made by the creator of Victubia herself :D ! | " |
Community content is available under
CC-BY-SA
unless otherwise noted.